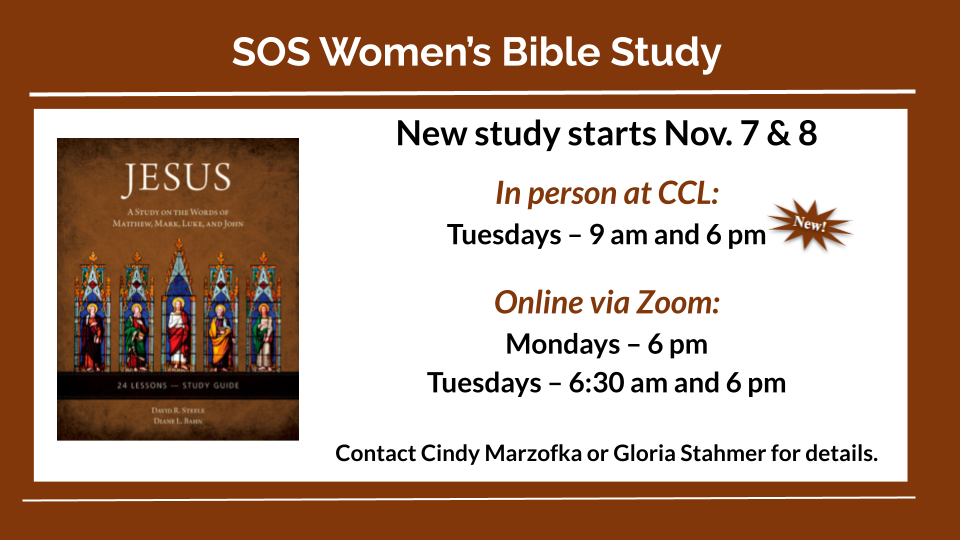 SOS Women's Bible Study – Jesus
An 8-week study at CCL or online starting Nov. 7 and 8
Jesus taught us everything we need to know to live in this world – from His humble birth to His love and compassion for others and His ultimate victory over sin, death and the devil. He is our hope, strength and guide through the challenges of this world and our only way to eternal life. Join us to draw closer to Jesus as we study His ministry in chronological order through the words of the four Gospels.
"I am the way and the truth and the life. No one comes to the Father except through me." John 14:6
Choose your day and time: 
Online via Zoom: 6:00 PM Mondays or Tuesdays, and 6:30 AM Tuesdays
At CCL: 9:00 AM (canyon room) or 6:00 PM on Tuesdays (chapel)
Click here to register. For more information contact: Cindy Marzofka (608-575-6790) or Gloria Stahmer (480-221-8818).